Here is a helpful guide to ordering your collar...
Collar Types
Traditional BUCKLE collar: Basic collar with buckle, adjustable slide, and D-ring.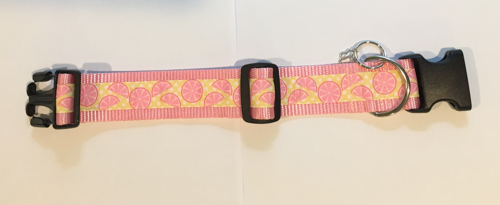 MARTINGALE collar: Martingales have no buckle. They consist of an adjustable slide, D-ring, and a loop that will pull closed when tightened. It is designed to not choke the dog, but to give better control and to prevent dogs from backing out of their collars.
Cat collar: Traditional cat collar with breakaway safety buckle, adjustable slide, and D-ring. Cat collar include a bell.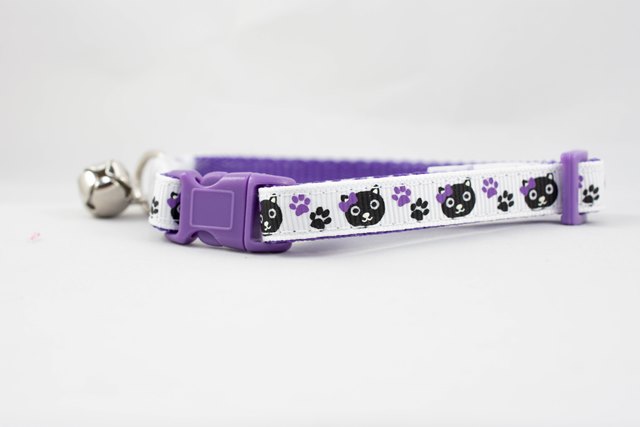 Options: You can add a buckle to a martingale collar. It has the same functioning as a traditional martingale collar, but with a buckle added for quick on/off.
Collar widths
3/8": cat collar
1/2": teacup size dogs (Yorkie, "mini" breeds, puppies)
5/8": small dogs and puppies (Pug, Boston Terrier, Dachshund)
3/4": small and medium dogs (small Beagles, large breed puppies, Corgi)
1": medium and large dogs (Labrador, Golden Retriever)
1.5": large and XL dogs (Large Shepherds, Great Dane, Pitt Bull, thick or long necked breeds)
2": XL and giant dogs (Mastiff, Great Dane, also common size for Greyhounds)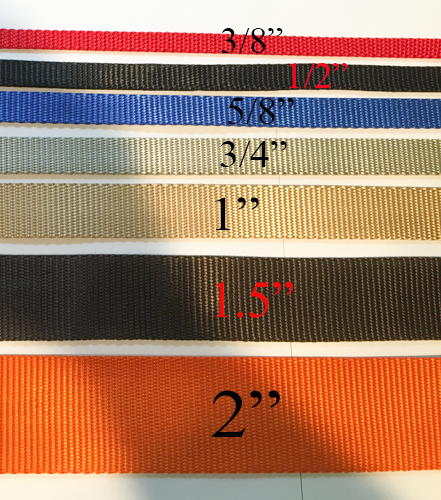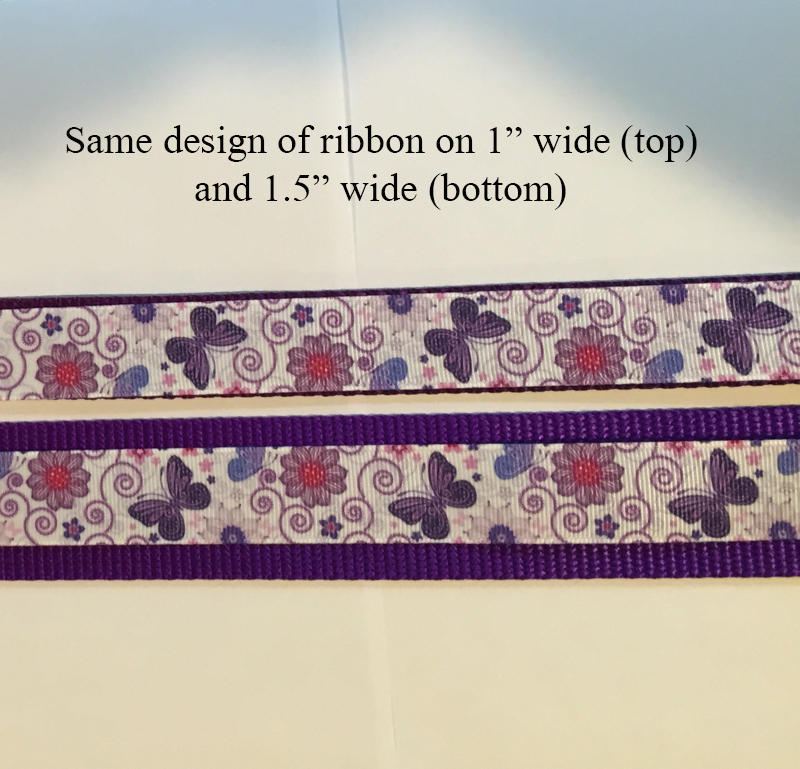 Collar Sizes
Sizes are just a guideline. If a neck size is provided collar will be custom sized based on measurements given.
XSmall 8-11"

Small/Medium 12-16"

Large 15-22"

XL 18-27"

XXL 22-37"

Martingale Small 12-14"


Martingale Medium 14-18"

Martingale Large 18-24"

Martingale XL 22-34"

Kitten 5-8"

Cat 7-11"

Big Cat 9-13"

Custom size: There's nothing too big or too small.
Hardware Styles
Available hardware styles vary based on collar size and type.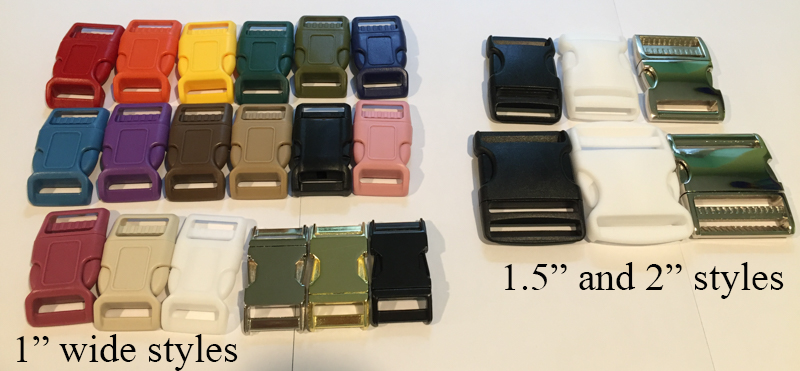 Plastic buckle with matching slide
Black: available in all sizes

Colored: 1" wide and smaller have many colors available. The 1.5" and 2" have white buckles available.
Hybrid buckle with nickel slide: buckle is half metal and half plastic. *Special order*
Metal buckle with metal slide:
Nickel/Aluminum available in 1" wide and up (smaller sizes are available as a special order)

Brass available in 1", 3/4", and 5/8" wide

Black metal available in 1" wide
Fleece Toys: Toys are made with fleece, poly fill, and squeakers. Fleece is a great material for toys since it doesn't tear like other fabrics. It will take a lot of wear and tear before it's destroyed.